Smart

Relational Strategy
The competitiveness of today's market makes fundamental an intelligent relational strategy that supports the company or brand in bringing value to its audiences: consumers, customers, stakeholders, employees, influencers …and that allows direct channels of personalized communication to be established.
intelligent relational strategy is part of aligning the different contact points of the physical and digital ecosystem, ensuring an omnichannel experience that facilitates and strengthens the relationship of consumers with brands. In a progressive way, information is acquired, which allows to know better the consumers to present them the contents, services, offers and experiences demanded by them, in an agile way and taking advantage of the Moments of Truth (MoTs).
Within an intelligent relational strategy, DRUID provides the experience accumulated in multiple projects as an identity and access manager.
DRUID is flexible and intelligent, multi-typology, multi-country, with predictable costs and adaptable to any Cloud architecture. This is the way in which value is created and a comprehensive service is provided that makes life easier for all those involved in Data Marketing or CRM projects: Marketing, Digital, Research, IT, Innovation, Financial, Legal and External Digital Creative Agencies.
If you want to know more about intelligent relational strategy and how to implement it, write to us and tell us about your project.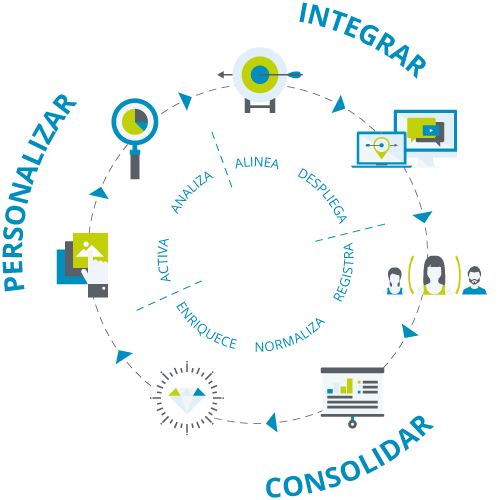 The cycle starts with the INTEGRATION of the digital ecosystem through a unique user identifier and a balanced UX. All the data obtained from any active point of contact are centralized, this information is CONSOLIDATED with the purpose of knowing better the consumers and the offers are designed that, in a PERSONALIZED way, will be presented to them as unique experiences.
STRATEGY AS AN ITERATIVE CYCLE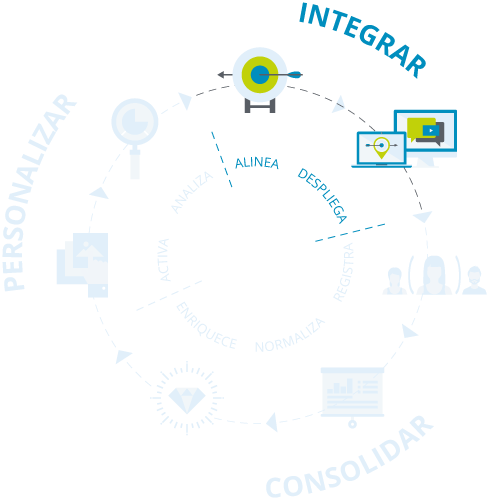 As a single identity and access management (CIAM) solution DRUID is key to the integration of complex multi-brand ecosystems, i.e. where there are many digital contact points, different types of users, brands, services, products, integrators, third-party agencies and regulations. Through traditional or social registration, DRUID offers the best user experience (UX), eliminates silos of information and avoids risks of non-compliance with regulations.
DRUID consolidates and unifies consumer data from all integrated contact points in the digital ecosystem. But not only those that come from the registry, but also those generated by transactional activity (ie: e-commerce) or from other data sources, in short, fundamental information to know better the behavior of consumers, which allows us to develop and position offers and actions and select the best channels of dissemination.
DRUID is essential in strategies that set consumer activation targets whether Real Time (RT), Near Real Time (NRT) or try to predict consumer behavior to create intelligent conversations. Through knowledge, actions are personalized and unique experiences are offered. Profiles are enriched, results are analyzed, new trends are discovered and improved proposals can be drawn up for our audiences.
DO YOU WANT TO KNOW MORE ABOUT OUR EXPERIENCES IN OTHER SECTORS?
TELL US YOUR PROJECT